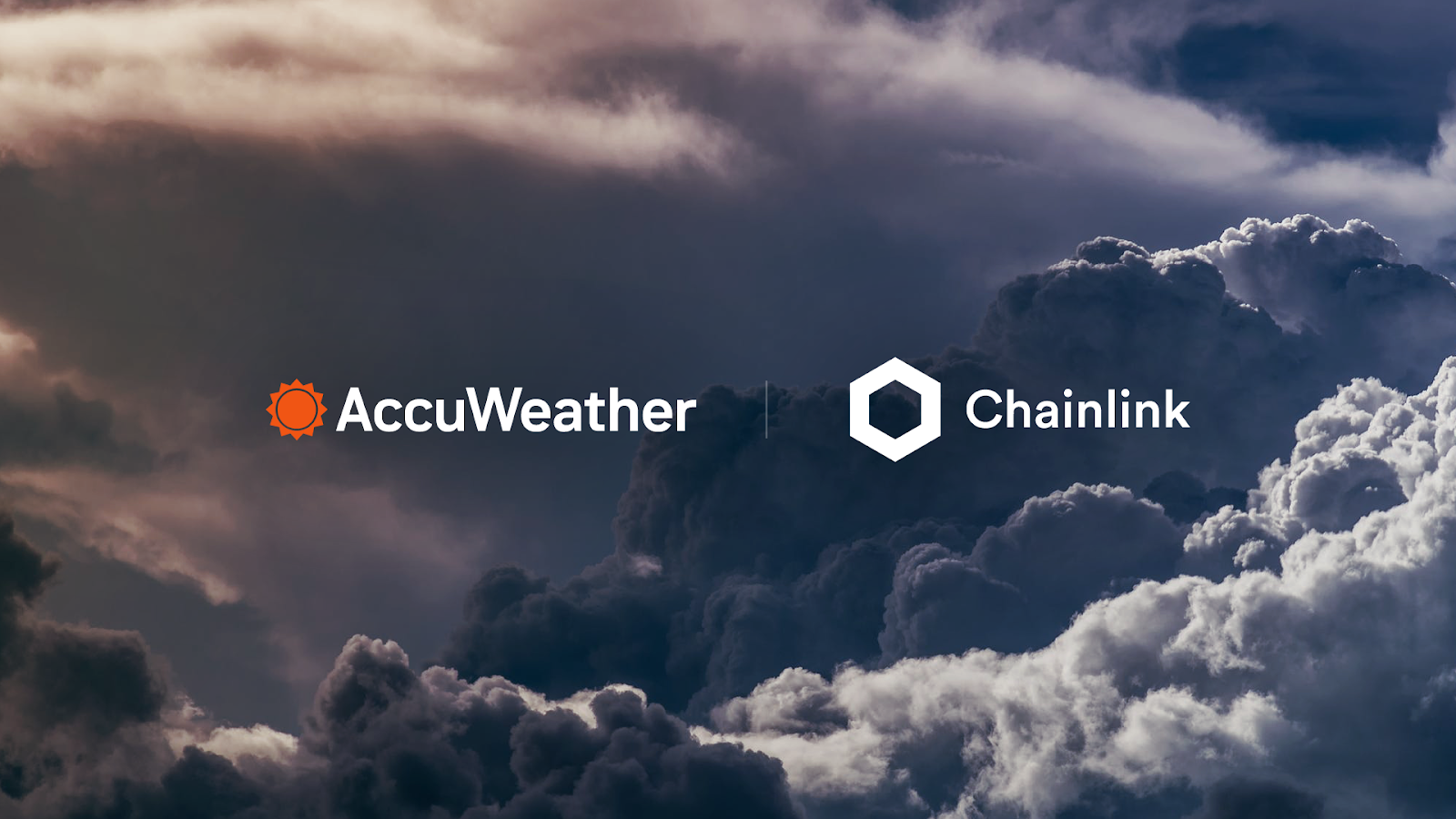 When it comes to recovery management, mobilizing and anticipating resources is key. ServiceMaster Recovery Management (SRM) relies on AccuWeather's advanced weather metrics to do just that.
AccuWeather provides SRM with weather coverage on a national scale.
---
SRM uses AccuWeather's realistic and accurate forecasts to make big impact decisions.
---
The role of AccuWeather has aided in Hurricane Matthew recovery efforts.
We're delighted to announce that the official AccuWeather Chainlink node is live! Smart contract developers can now call our Chainlink node to obtain a wide range of world-class weather data, starting with current weather by geolocation, including current temperature, maximum temperature, minimum temperature, and precipitation. This premier AccuWeather data can then be used within blockchain applications powered by smart contracts to create new products and markets like weather prediction and hedging markets and dynamic NFT art and games that change based on current weather conditions in localized regions.


For any developer wanting to access AccuWeather data on blockchains, view the following documentation: Click Here

We selected Chainlink to bridge our weather data onto blockchains because it's the most time-tested and widely adopted oracle network for data providers and smart contract developers. It was also a very seamless setup process that involved little integration work on our end.
Through our Chainlink node, we can now broadcast data across leading blockchains and cryptographically sign it so users know definitively that it originated from AccuWeather, the world's most accurate weather source. By using Chainlink as a universal gateway to blockchains, we have been able to extend the reach of our data into emerging markets, as well as support the next generation of weather-related applications. For more information about why we chose Chainlink, refer to our previous announcement.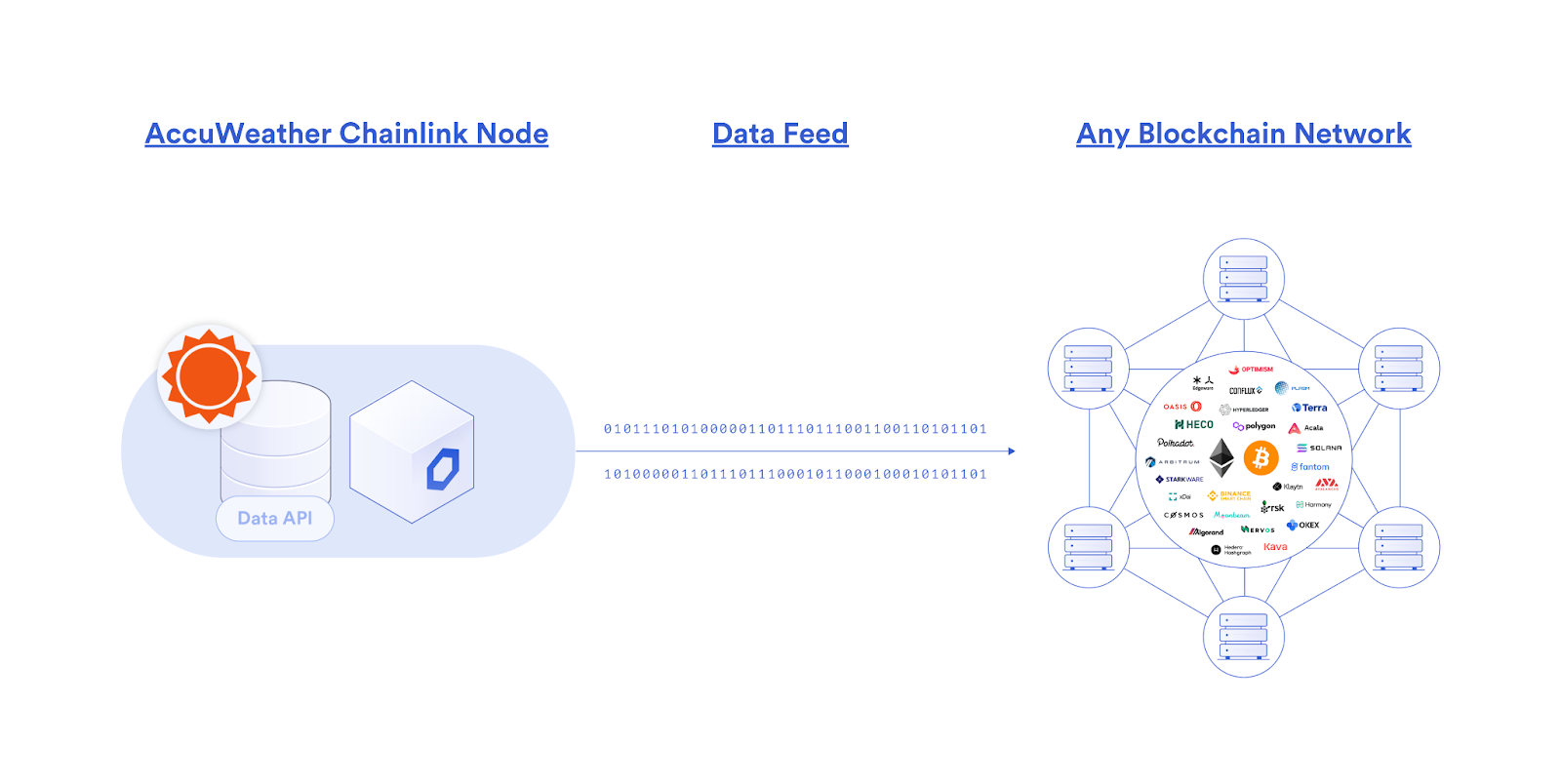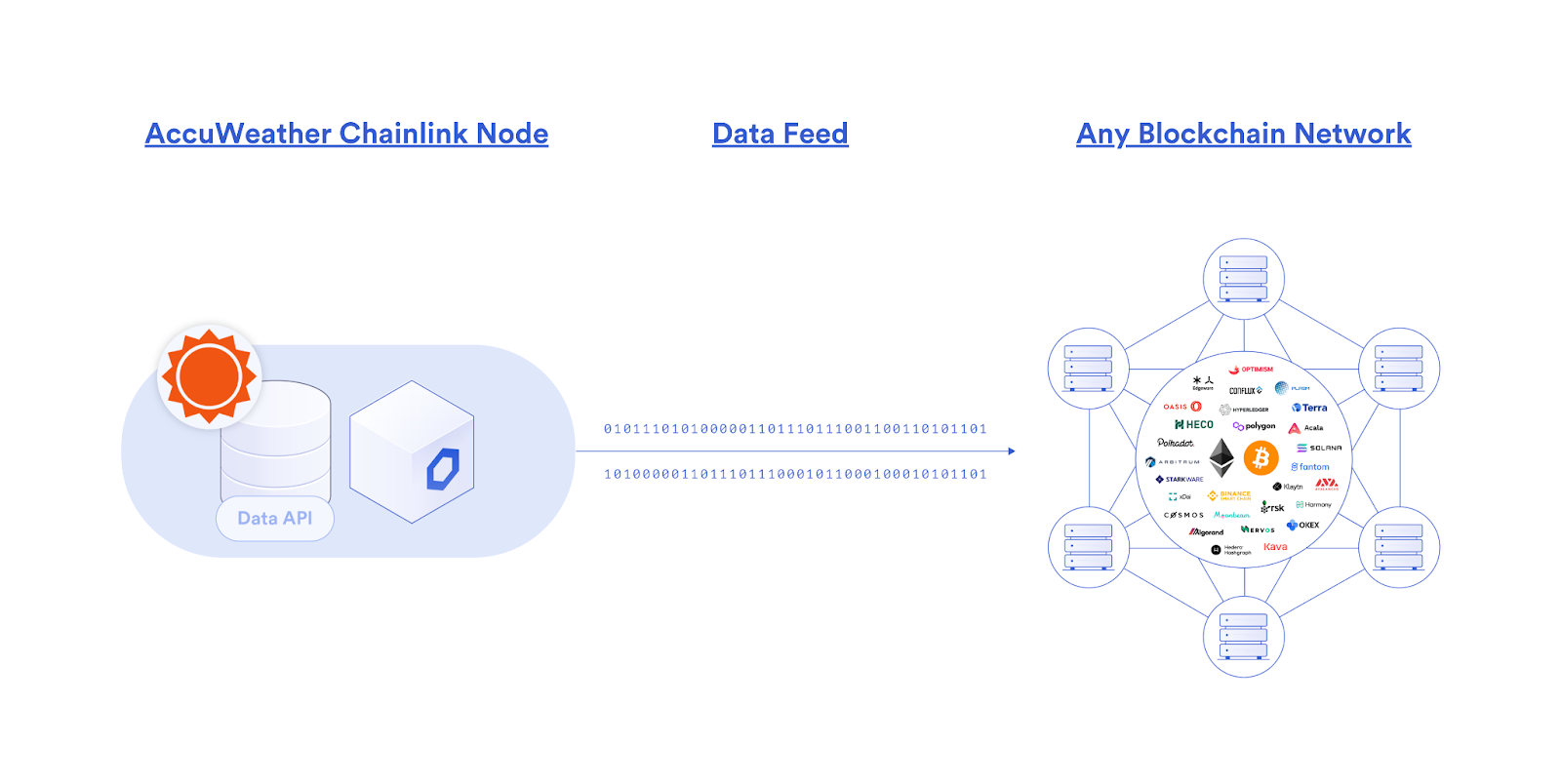 AccuWeather, recognized and documented as the most accurate source of weather forecasts and warnings in the world, has saved tens of thousands of lives, prevented hundreds of thousands of injuries and tens of billions of dollars in property damage. With global headquarters in State College, PA and other offices around the world, AccuWeather serves more than 1.5 billion people daily to help them plan their lives and get more out of their day through digital media properties, such as AccuWeather.com and mobile, as well as radio, television, newspapers, and the 24/7 AccuWeather Network channel and AccuWeather NOW streaming service.  AccuWeather serves more than half of Fortune 500 companies and thousands of businesses globally. Additionally, AccuWeather produces and distributes news, weather content, and video for more than 180,000 third-party websites.
Among AccuWeather's many innovative and award-winning features available free to the public are MinuteCast®, Minute by Minute Forecasts® with Superior Accuracy ™, the patented AccuWeather RealFeel Temperature, and AccuWeather RealImpact™ Scale for Hurricanes. Dr. Joel N. Myers, Founder and Chief Executive Officer, established AccuWeather in 1962 and is considered the "father of modern commercial meteorology." Dr. Myers, a leading creative thinker and visionary, has been named "the most accurate man in weather" by The New York Times and one of the top entrepreneurs in American history by Entrepreneur's Encyclopedia of Entrepreneurs.
AccuWeather, RealFeel, MinuteCast, and Minute by Minute Forecasts are all registered trademarks of AccuWeather, Inc.  AccuWeather RealFeel Temperature, RealFeel Shade, WinterCast, AccuWeatherIQ, AccuWeather RealImpact Scale, AccuWeather RI, AccuWeather MinuteCast, AccuWeather Network, and Superior Accuracy are all trademarks of AccuWeather, Inc.  All other trademarks, product names and logos are the property of their respective owners.
The AccuWeather app for Android phone and tablet users is free at the Google Play store. The AccuWeather iOS app is free at the Apple store. Visit accuweather.com for the most accurate, hyperlocal and up-to-date forecasts, weather news and information.
Chainlink is the industry standard oracle network for powering hybrid smart contracts. Chainlink Decentralized Oracle Networks provide developers with the largest collection of high-quality data sources and secure off-chain computations to expand the capabilities of smart contracts on any blockchain. Managed by a global, decentralized community, Chainlink currently secures billions of dollars in value for smart contracts across decentralized finance (DeFi), insurance, gaming, and other major industries.
Chainlink is trusted by hundreds of organizations, from global enterprises to projects at the forefront of the blockchain economy, to deliver definitive truth via secure, reliable oracle networks. To learn more about Chainlink, visit chain.link and subscribe to the Chainlink newsletter. To understand the full vision of the Chainlink Network, read the Chainlink 2.0 whitepaper. Want to discuss an integration? Talk to an expert.


Solutions | Docs | Twitter | Discord | Reddit | YouTube | Telegram | GitHub
---
AccuWeather Enterprise Solutions, the world's leading commercial weather source partnering with more than 240 of Fortune 500 companies and thousands of businesses and government agencies worldwide, provides the most accurate, actionable weather data, forecasts, and intelligence that saves lives, protects property, drives revenue, minimizes risk, increases productivity, and more for clients worldwide. AccuWeather Enterprise Solutions has focused on the business impacts of weather for over 50 years, serving clients in all 50 states in the United States and worldwide including all of North America, Europe, Africa, Australia, South America and Asia. Clients across all industries rely on AccuWeather Enterprise Solutions for the most accurate weather information and insights to drive quantifiable business results. Government and emergency management agencies also rely on AccuWeather for the best forecasts of severe weather events - floods, tornadoes, hurricanes, cyclones and others - available from any source. By forecasting and communicating the weather the most accurately and effectively worldwide, focusing on impacts - telling people how, why, and what they need to do in order to save lives and minimize losses - AccuWeather has saved tens of thousands of lives and tens of billions of dollars in property damage.
Press Release
LG to Add AccuWeather NOW Live Streaming Service to its Lineup
AccuWeather Global Weather Center, January 27, 2021 - AccuWeather NOWTM, the new video streaming product from AccuWeather, the proven leader in weather forecast accuracy, announced it is joining LG Channels' growing roster of over 300 channels, meeting an increasing demand for streaming weather and climate news and content. LG users can now access AccuWeather's forecasts...
Thu, 27 Jan 2022 14:21:51 GMT
Press Release
Industry Leader AccuWeather Launches ClimateReady™ Risk Mitigation
Conceived to help organizations identify threats and risks specific to their operations, new offering will help improve safety, productivity, supply chain resilience, and asset protection, and serve as a catalyst for climate change preparedness and innovation. AccuWeather Global Weather Center, January 25, 2022 - AccuWeather today announced the launch of ClimateReady™ Risk Mitigation to help...
Mon, 24 Jan 2022 22:13:04 GMT
Press Release
AccuWeather Acquires Plume Labs
Acquisition combines global weather leader's award-winning forecasts, warnings, insights, digital capabilities with Plume Labs' industry-leading air pollution data, products, and expertise AccuWeather Global Weather Center, January 24, 2022 - Global weather and digital media leader AccuWeather today announced it has acquired Paris-based environmental technology company Plume Labs® for an undisclosed amount, effective immediately. The deal...
Sat, 22 Jan 2022 22:33:15 GMT